SPIRALITE® SPA-FLEX® POOL & SPA HOSE
SPA-FLEX® 710-00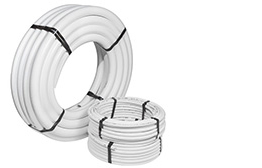 | NOMINAL SIZE (inch) | Approx OD (inch) | Rec WP @ 72° F (psi) * | Design Burst Pressure @ 72° F (psi) | Approx Burst Pressure @ 140° F (psi) | Rec Min Bend Radius @ 72° F (inch) | Approx Weight (lbs/ft) |
| --- | --- | --- | --- | --- | --- | --- |
| 1/2 | .84 | 100 | 400 | 180 | 2 | .15 |
| 3/4 | 1.05 | 100 | 400 | 180 | 2 | .23 |
| 1 | 1.315 | 100 | 355 | 180 | 3 | .31 |
| 1-1/4 | 1.66 | 80 | 250 | 120 | 4 | .40 |
| 1-1/2 | 1.9 | 65 | 200 | 100 | 5 | .49 |
| 2 | 2.375 | 60 | 175 | 90 | 6 | .68 |
| 2-1/2 | 2.875 | 60 | 175 | 90 | 7 | .95 |
| 3 | 3.50 | 60 | 175 | 90 | 8 | 1.28 |
*Please Note:  Published working pressures are for OPEN-END applications ONLY
Spa-Flex
®
Pool & Spa Hose
APPEARANCE / CONSTRUCTION:
-Smooth white* PVC wall with rigid PVC helix.
-* also available in Clear, Cream and Brown
BENEFITS:
-IAPMO and NSF listed for Swimming Pools, Spas and Jetted Baths.
-FDA non-toxic formulation
-Made using only virgin resin and high-quality plasticizer to ensure long life.
-Suitable for above and below-ground installation.
-Simplifies layouts and reduces need for flow-reducing couplings.
GENERAL APPLICATIONS:
-Circulation systems for hot tubs, jetted baths and above/below-ground swimming pools and spas